The Best Time to Refinance or Trade in Your Vehicle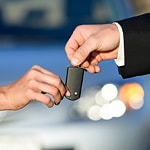 What does it mean to refinance your vehicle vs. trading it in? When is it a better time to do one or the other? These are common questions that are Burritt Motors Chevrolet team in Oswego, NY hears quite frequently. Here are our quick, easy answers.
Refinancing Defined
Refinancing is a fancy way to describe 'renegotiating your car loan.' You're welcome to do so when your credit improves or if your monthly payment gets too high. More often than not, refinancing can score you a lower interest rate and, perhaps, a lower APR, a lower monthly payment and longer or shorter loan terms. Refinancing is advisable after you complete at least six months of on-time car payments.
Trade-in Redefined
Trading in your vehicle applies its dealer-assigned value to the cost of a newer vehicle. There are several ways to gauge trade-in value in advance> Check KBB or NADA guides. Call the dealer. Most dealers use KBB and NADA as well as several other factors:
How desirable/sellable your vehicle is
Your vehicle's condition
Year
Make
Model