Chevrolet Silverado 1500 Design Features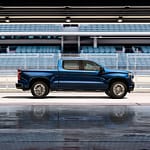 The Chevrolet Silverado 1500 is one of the most popular vehicles in America. This pickup truck has been around for decades and it's still going strong. The Chevy Silverado 1500 was redesigned last year with a slew of new features, so we wanted to share them with you! Here are the top five design features on this vehicle:
1. Comfort
The new Chevy Silverado 1500 has lots of seating space. You can even get it with eight seats! You'll also love the comfortable leather interior, ample legroom and great sound system.
2. Performance
This pickup truck performs like no other. It's incredibly quick off the line and you won't be left standing at traffic lights. Plus, it is great on fuel economy!
3. Innovation
The Chevy Silverado 1500 is very innovative, with many safety features such as lane departure warning and rear cross-traffic alert. It can even detect pedestrians and help you avoid them!